News feed of the Site
29.07.2019
New advertising label!
Dear users of Gege24, a new advertising label "0% commission for buyers" has appeared on the portal.
Now you can attach this label to your objects, and increase the attractiveness of your ads for buyers.
You can add a label to both new and old objects.
04.03.2019
Now you can "Update ad" on the Gege24 Portal.
By updating your ad, you will raise it to the first position, which will increase the viewing of your ads dozens or even hundreds times more.
To update the announcement, you need to go to My office >> My objects or to My office >> My requests and click on the "Update" button.
22.11.2018
Dear users of the Gege24 Portal,
we suggest you reload your logos or avatars (delete and reload) in the My Account >> Edit profile.
After that, when the Portal visitors make a flip list on social networks, your logo will be displayed in the repost (and not other images like now).
* A little trick. To promote your profile on the Gege24 Portal, you can make (or ask your relatives) a repost. To do this, go to the top menu My Account >> My page and click on the social networking buttons.
16.10.2018
Are you looking for a property to buy or rent? This news is for you!
There is a unique opportunity on our Portal. Now you can place properties for sale and rent, as well as place requests for the purchase and rent. Your ad will be visible to thousands of people who want to sell or rent a property.
You can add an ad in the Add ad >> Add request to purchase/rent.
All published requests are in the section: https://gege24.com/en/bidtag
13.08.2018
Choice of a type of activity in your personal profile.
Dear users of Gege24 Portal, we want to create maximum comfort for both real estate sellers and buyers. So from now on, users of the portal can choose the type of activity in their personal profile (My Profile >> Edit) :
- I'm just looking for a real estate;
- I'm only offering real estate;
- I'm looking for and offering real estate.
Please, correctly indicate this item. This will give us the opportunity to make more accurate and correct alerts about the necessary settings in your profile and accordingly help to promote your account.
Type of activity you can change at any time without restrictions.
25.07.2018
New features on the Gege24 Portal.
In the personal cabinet (in the section My Profile >> My objects) new functions are added:
1. The function "Deactivation/activation of the object" is realized.
If the sale or rental of the property is temporarily suspended, you can deactivate the ad by clicking on the switch.
When you deactivate the ad, it will not participate in the search and will be available by a direct link. You can activate the object at any time;
2. The function "Deleting an object" is realized.
When an object is deleted, it's permanently deleted from the portal. Delete the object if it's sold or when you are sure that you will no longer deal with this object.
10.04.2018
Gege24 is the first Portal in Georgia for buying, selling and renting real estate.
- it's a large number of buyers not only in Georgia, but all over the world.
- it's a huge audience all over the world in three languages (Russian, Georgian, English).
- the independent placement of ads (buy-sell-rent).
- the modern tools for real estate search.
Sign up and post your ads.
Choose the appropriate options for real estate.
АН "New Batumi"
+995 593-50-40-40
Tel/Viber/WhatsApp
Агентство недвижимости
"New Batumi"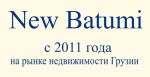 In the last 30 days
Added objects: 24
Viewed
(from Georgia)
: 134405
Viewed
(from other countries)
: 249611
Sold: 4
Advertising